We believe in three fundamental perspectives on a future-proof Executive Assistant delivering value to the organization in updated, new, and innovative ways.
That belief is also the foundation of the Professional Master for Executive Assistants online learning programme. The three fundamental aspects are:
The Strategic Executive Assistant
The Supportive Executive Assistant
The Visionary Executive Assistant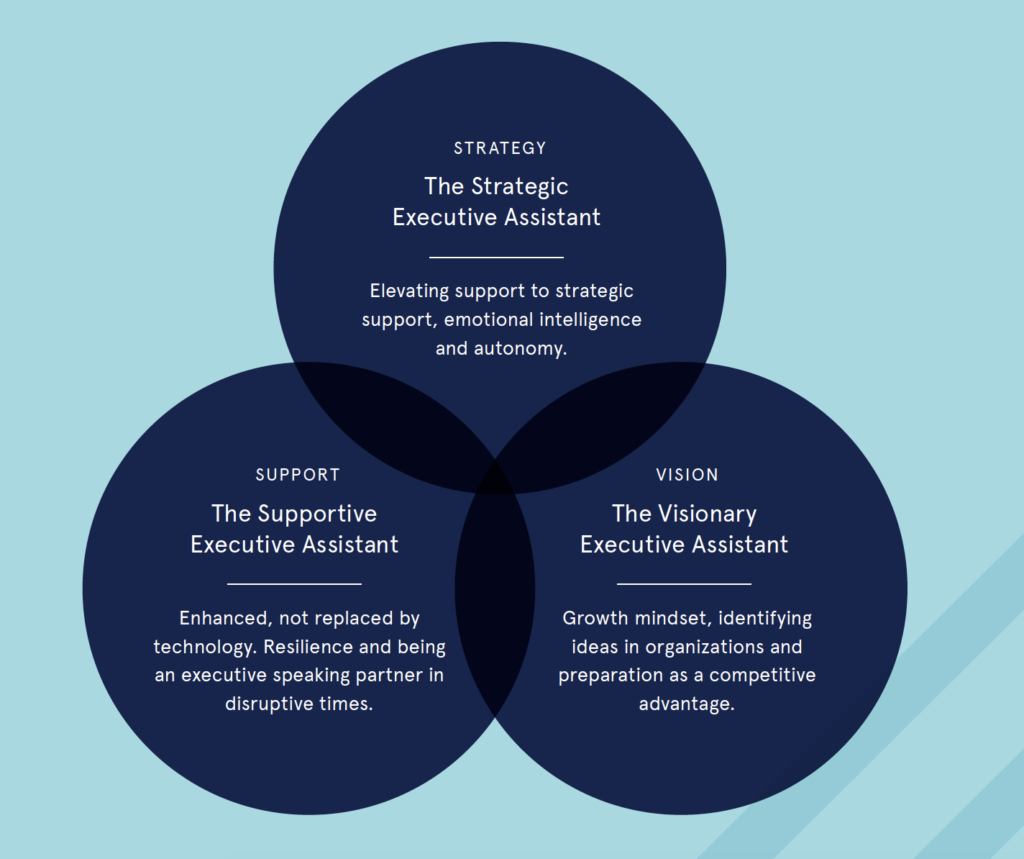 We have positioned Strategic at the top of the Venn diagram because both the support and the vision that we offer must be delivered according to strategic objectives and with a strategic mindset. The basis of that mindset will be covered extensively in the coming chapters. The core of it is to enable day-to-day management routines that enhance the effectiveness of the leader, and the organization as a whole. As well as operating as a business manager in your own right.
The Supportive Executive Assistant might come across as an obvious pillar of our profession, which is correct. But our ambition for you goes beyond being traditionally supportive. It is about projecting what support will be needed three steps ahead. It is about further developing one's supportive capability and, for example, offer advise on time allocation and calendar priorities (as opposed to merely keeping calendar). It is about possessing an in-depth fundamental understanding of the business that the organization is operating in, and hence its mechanics, challenges, and opportunities (which translates into actions and decisions for your leader).
Being Visionary is about understanding the environment in which your organization and your leader is operating. The global movements and evolutions affecting the business and scenario-thinking your way ahead of the key ones. It is also about adding forward-thinking strategic support to your leader, such as extending his or her professional network in a suitable direction, keeping track of relevant professional development opportunities and identifying interesting and valuable ideas from within the organization (from your unique internal position of soft power).
To summarize:
Strategy is about you, your methods, strategies, tactics, and the nature of your work. 
Support is about how all that is being put into action, as you execute your profession in a professional symbiosis with your boss.
Vision is beyond that, it is about the reality of the corporation and how the world affects your daily operations, actions, and priorities tomorrow (and your responsibility as to prepare you both).