Main Content
Strategic Training for Everyone
The Professional Master for Executive Assistants puts an emphasis on an updated and uniquely human skill-set.
Cost: €1,800.
Duration: 6h/week for 10 weeks. Written final assignment excluded. Unlimited access to all content for 12 months.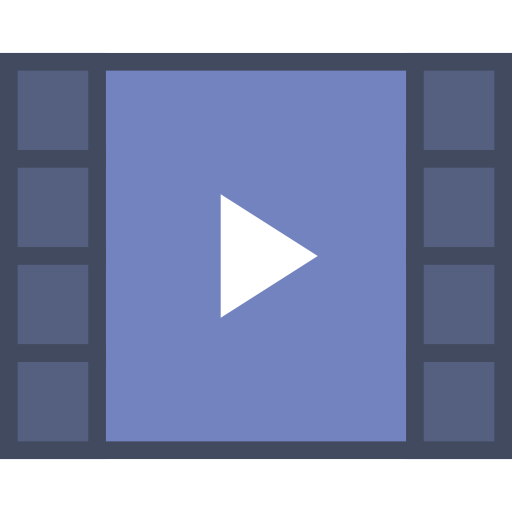 Video Lessons
+20 exclusive video presentations featuring industry authorities such as Adam Fidler and Laura Belgrado walking you through teachings, tactics and tools.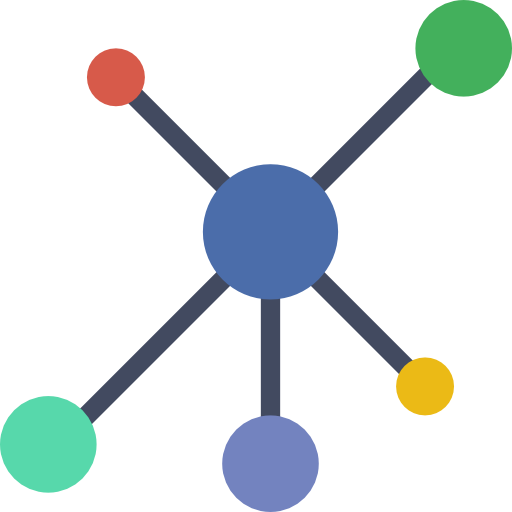 Join a learning community
Access our online learning community. In dedicated Slack channels, you get the professional network, learning context and bonus materials.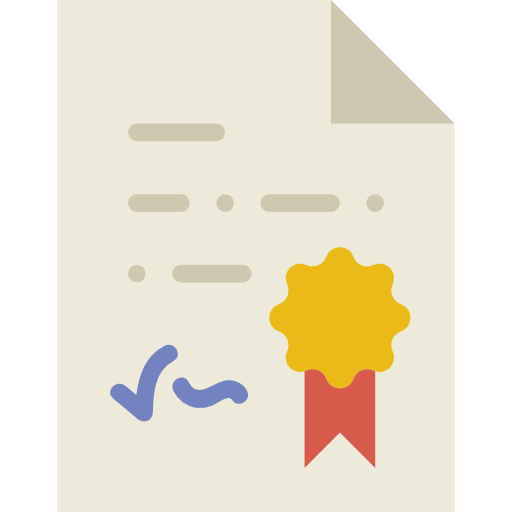 Certificate
Qualify for the Professional Master for Executive Assistants certificate by passing assessments throughout the course, and a manually graded writing assignment.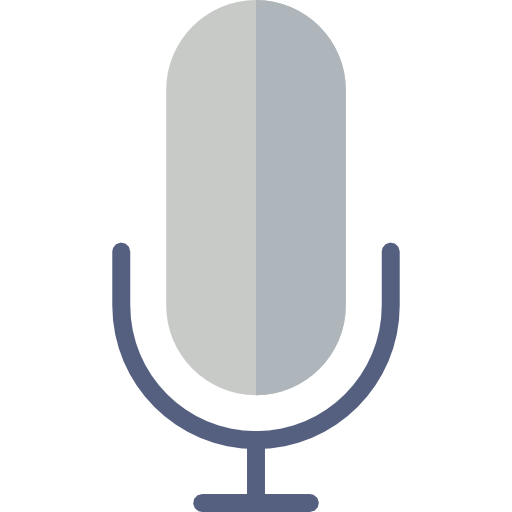 Podcasts
+10 podcasts produced to provide context, depth and additional angles to the most relevant issues, challenges and opportunities facing Executive Assistants today.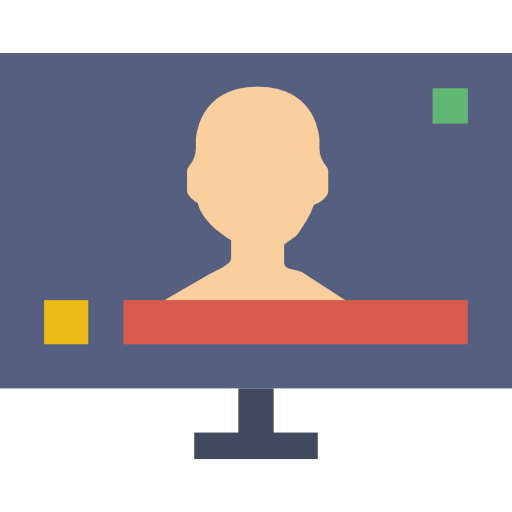 Presentations
Visual presentations and webinar-styled broadcasts created to further visualise the toolkits, strategies and models offered to you during the program.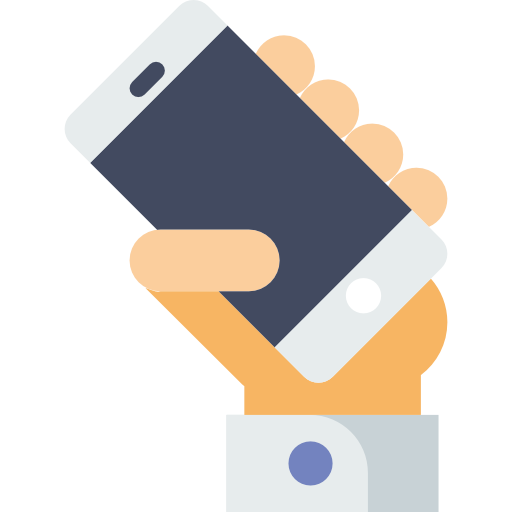 All Access
Full access to the content for 12 months. Download the materials, repeat the segments you found most interesting and take the course anywhere, anytime and on any screen.
Colleagues from around the world are learning
Even the most advanced and highly skilled Executive Assistant must continously look to learn new things, improve and reflect." Else-Britt LundgrenIMA, Executive Chairman 2013-2019
We are at an inflection point for Executive Assistants. The job can become more important, interesting and relevant than ever." Adam FidlerFounder, Adam Fidler Academy
I've been fortunate enough to observe the evolution of the Executive Assistant role for the past decade. This course is the next step." Stefan HaglundCEO, Företagsuniversitetet
This online programme is perfect: Independent study at my own pace, from any screen, and 12-month full access for repetition and reflection. Meaning time to test, calibrate and perfect learnings at work." Elena AylottVice President & Director CEO Office Oriflame Costmetics
In this course I teach business model fundamentals, revenue streams and strategic innovation; knowledge you need to being able to offer even better and more impactful executive support." Terrence BrownDocent, Entrepreneurship & Innovation KTH, The Royal Institute of Technology
I'm enjoying this digital Master program. The content is professional, well-designed and inspiring. It is very valuable to learn from the best, and to future-proof your skills." Sofie KoarkExecutive Assistant to Founder & CEO
AW Group
Future-Proof
This program is being developed to remain ever-relevant and future-proof your career. Via
IMA
, instructors can coordinate their content and methodology with the day-to-day operations of colleagues from around the world.
Read more
Learn More
Download the introductory brochure for a visual outline of the course and of our ambitions for the future of Management Support.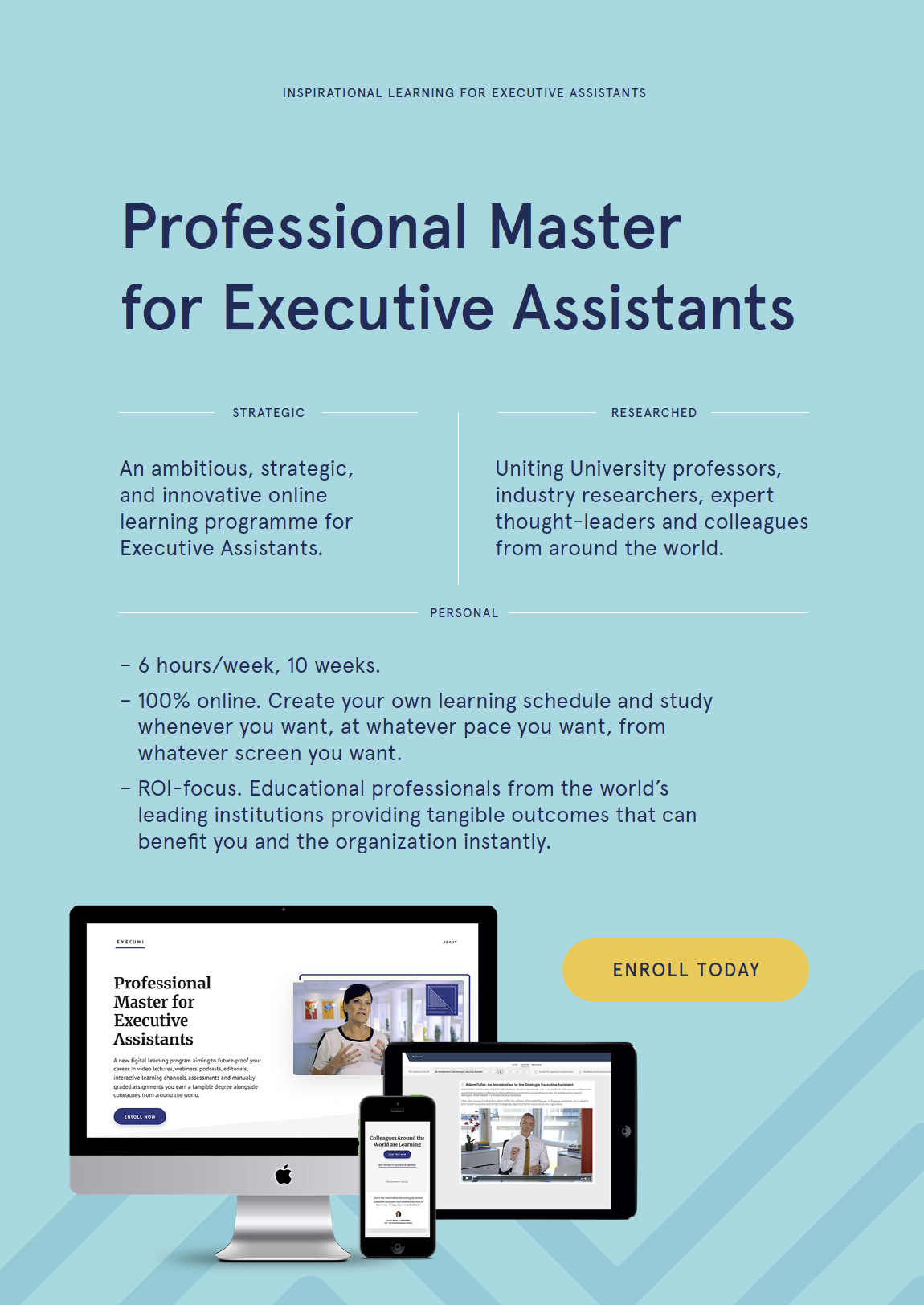 Request a copy by completing this form.
Programme Outline
The Strategic Executive Assistant
The concept of the "strategic" Executive Assistant is at the heart of this programme. It encapsulates not only the capabilities and behaviors that we aim to add to our skillsets to continue to develop in our roles, but a mindset change. 
Thinking about, planning for, and steering towards for the tasks that may, will and should be next, while operating effectively in the day-to-day that is already here in front of us.
- Elevating Support to Strategic Support
- Turning Responsibility into Authority
- Autonomy
From Admin Support to Business Support
Developing into a more strategic corporate resource in your own right – a more fundamental understanding of business models in general, and the business of your own organization, in particular, is required.
Only by acquiring such fundamental understanding will we be able to "put two and two together" and support our executives with not only operational tasks but with analytical, strategic, and proactive work.
- An Introduction to Business Models
- Introduction to Business Model Innovation
- Executive Speaking Partner in Disruptive Times
- Tangible Execution
A Scientific Approach to Productivity
As humans, we are becoming busier and busier yet we are losing our ability to actually control our own mind. During the Professional Master for Executive Assistants, we take an in-depth look at the science behind "deep work", how the human focus is being up-valued in today's job market and how the ability to concentrate is worth more than ever.
As Executive Assistants, we are experiencing moving pieces enough as it is, now let us have technology work for us, not against us.
- The science behind "deep work"
- The increasing economic value of human focus
- "Deep work" for Executive Assistants
- Personal Sustainability Planning
Elevating the Executive Assistant
We collaborate on the steps needed to elevate your support to truly strategic support. This includes models for executive discussions and strategic planning. But also an outline of what makes you unique as a human resource, and a strategic plan to strengthen those capabilities.
- Resilience
- Emotional Intelligence
- Assertiveness
- Preparation as a Competitive Advantage
Office Politics
Office politics is all around us. Sometimes working in our favour, sometimes working in the background to bring us down. Most often it's none of those extremes, but an invisible force affecting people's attitudes, decisions and opinions.
Independent of what approach you chose to take, and we will be talking more about your options shortly, you will need a fundamental understanding as you now move into a more strategic role. Because you can ignore office politics, but you cannot escape it.
- Defining Office Politics
- Drivers of Office Politics
- Dealing with Office Politics
The Future-Proof EA at Work
Enhanced technology is not a threat but an opportunity. We have a look at how we can position AI, data science, and automation strategically in our career, having it support us and make us stronger on the skills and abilities that are uniquely human.
We also have a broader look at adding to the Executive Assistant role by seeking an active part in broader corporate projects and initiatives.
- Influencing Stakeholders
- Difficult Personalities
- The EA in teams
- Enhanced, not replaced, by technology
- Critical judgement
- Competitive analysis
- Scenario planning
Lifelong Learning
Organizations around the world are experiencing rapid, sweeping changes in what they do, how they do it, and even why they do it. Increasing globalization and new technologies demand new modes of working and talent with new and diverse skills.
And that is not just buzzword jibberish: amongst Executive Assistants, we have all seen – firsthand – the fundamental changes that digitization brought to our desks.
The evolution will continue and we need to be prepared.
- Lifelong Learning Models
- How Colleagues Are Doing It
- What Should I Learn?
The Visionary Executive Assistant
We allow ourselves a brave look at how the role as an Executive Assistant can be reimagined, extended, widened and innovated upon.
- Growth Mindset
- Design Thinking in Management Support
- Identifying Valuable Ideas in Organizations
- The Age of The Adaptable: Understanding
- Disruption
- An Executive Assistant's Guide to AI